" To deliver unique, personal and highly beneficial treatments to our guests, in a warm, caring and professional environment."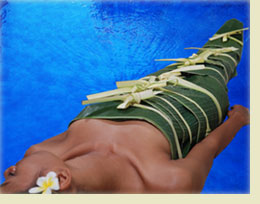 Immerse yourself into the relaxing and invigorating environments available at Kaimana Spa. Discover an area to suit your mood. Whether you wish to relax with your favorite book, swim or catch up with friends, there's a relaxation area waiting for you.

Bali has again won the spa capital of Asia award. Kaimana Spa is proud to be a member of the Bali Spa and Wellness Association that received this award. As the technology advances and new techniques for beauty and wellness, we endeavor to improve our menu of spa and beauty treatments on offer. Our guests come to Kaimana Spa from many countries around the world, time and time again.

Our professional grade products are the same or better than you may find on Bali's most expensive island resorts. We believe in quality control and continual improvement in all that we do.

During the session of a thorough treatment for beauty, body and mind please enjoy a glass of freshly prepared local fruit juices, afternoon tea, or our famous Kopi Luwak. Lay back and relax, the day is all yours. The swimming pool with its tempting cool and refreshing water is very invigorating and sunbathing or reading your favorite book at the pool side gives total relaxation.

Treatment Rooms
Featuring a selection of 10 spacious treatment rooms, all rooms are air-conditioned, completed with private en-suite shower and toilet, twin massage beds to share with your partner, freshly prepared linen and kimonos and deeply relaxing background music.

Spa Cafe
• Freshly prepared local fruits, and fruit juices
• Quality selection of teas
• Kopi Luwak (the most prized coffee in the world)
• Cold drinks
• Hot and cold meal selections
Swimming pool area
• Separate Male and Female changing rooms
• Variable depth clear blue swimming pool
• Seating under the water fountains
• Relaxation Bale
• Jacuzzi
• Free web hotspot
Salon
• Reflexology Lounge
• Hair Cream Bath
• Manicure tables
• Lounge area