| | | |
| --- | --- | --- |
| | | |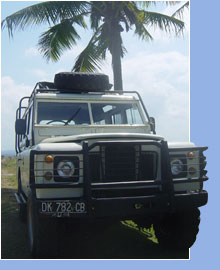 Be ready for an exciting land cruise adventure!
We will take you to the adventure right off the beaten track and literally, by four wheels drive, to the parts of Bali normally never reached.

With thrilling off-road excitement as the trek through the muddy road, steps terrain's remote territory. Observe the local culture and religion in the temples, small villages, traditional ceremonies, riverside stops, and spice and fruit plantations.

Enjoy the muddy land, rice field and flora and fauna in area of Tabanan Bali represent the exciting adventure experience during your vacation in Bali.

Land Safaris in the Tropical Island

Your exciting adventure will be started right of the hotel; we'll pick you with a four wheel land rover drive to Tabanan Regency.

The first stop will be at Belalang Village to view the beautiful rice field and continued to Pejaten Village famous with the artistic of ceramic homemade and roof tile. From this village the journey will visit Kerambitan Village which most known as a center of Tek-tekan Dance. After Kerambitan, we were heading to Bantas, about 10 km west of Tabanan, then passing the village of Dukuh Pulu , the other traditional village famous for it's Joged Dance, before across the small river.

Further to the west around 8 kms from there, near the village of Tegal Mengkeb, experience the delights of Pantai Beraban, a superb beach with clean black sand and beautiful rice terrace around and to see the farmers cultivating the rice fields in their traditional way and irrigation system which is called Subak.

Just 20 meters of the Beraban beach , the journey will stop with beautiful and enchanting rice terrace and magnificent blue ocean surrounding for 30 minutes coffee break. Here the delicious Indonesian traditional snacks and fresh fruits will be served at the Bali Tropical Safaris traditional compound build by local craftsmen.

The journey is continued to surround the rural in south of Mount Batukaru until at the end of a step road north of Meliling past Mundukmalang , we will stop for around 60 minutes in the middle of Cocoa & Coffee plantation – about 800 m above sea level for lunch. Here the delicious Indonesia food will be served in one of Bali Tropical Safaris' traditional Balinese compound build by local craftsmen while you can enjoy the ambience.
BALI TROPICAL SAFARIS PRICE (USD)

Valid Immediately until 31 October 2010

PROGRAM

PUBLISHED RATE / PERSON

INTERNET RATE / PERSON

Full Day Safaris

Adult 2-3 persons
Adult 4 persons up
Child

Adult USD 82.00
Child USD 55.00


USD 75.00
USD 72.00
USD 48.00


Full Day Safaris+Rejuvenate (Spa)
Adult 2-3persons
Adult 4persons up
Child


USD 95.00 Adult


USD 84.00
USD 82.00


Full Day Safaris+Horse Riding

Adult 2-3persons
Adult 4persons up
Child

USD 95.00 Adult
USD 65.00 Child

USD 84.00
USD 72.00
USD 60.00

Price per person and valid for base on minimum 2 persons

SERVICE PROVIDE
BALI TROPICAL SAFARIS will:

Provide following services:

Guest transfers using 4x4 jeeps from pick-up, tours and back to hotel/Harbor
Passengers insurance protection USD. 25,000,-
Coffee Break, to include coffee, tea and snack for Full Day Safaris, Package Horse Riding and Half Day Safaris.
Lunch for guests taking Full Day Safaris, Package Horse Riding, Rejuvenate Safaris and Cycling Safaris.
Fully trained and professional speaking English drivers
Guides are available upon request (please mention when making reservations).

Provide all necessary promotional materials.

BOOKING PROCEDURE
PT. Bali Info Iklanindo Semesta (Indo.com) will:

Book directly to Bali Tropical Safaris via facsimile and reconfirm the booking, 24 hours prior to date of trip.
Collect payment from the guest and in exchange, raise voucher for the guests
Advice guests to be ready at the specified time in the looby with their voucher or payment

CHILD POLICY
(Not valid Rejuvenate Safaris & Full Day with Horse Riding)

Under 4 (four) years old : F O C
Children between 5 – 12 years old : as contract mention


CONCELLATION POLICY

Concellation should be made at least 24 hours before departure by fax.
No show

Note: To change the booking date can be made 24 hours before departure by phone or fax depend on the availability.

LIABILITY
BALI TROPICAL SAFARIS will not responsible for any damage or loss of personal items.


Full Day Jeep Safaris Time Schedule;
08.30am
Full Day Tour pick up time
Note: to open canvas ceiling, guests are able to stand-up whiles through.
09.30am
Passing Belalang village, with its traditional lifestyle.
09.40am
Arrive at Pejaten village: To see the villagers traditional roof tiles, this stop is for around 10-15 minutes.
09.50am
After passing the tiles' village, next stop is Pura Bedha. 5-10 minutes stop for pictures taking. Pura Beda is considered as one of the big temples, it's well carved and a decorated "village temple", the inner courtyard perch 2 merus (Balinese Pagodas), which has 11 tiers each. This temple is dedicated to Brahma and Wishnu as it is a combination of Pura Desa and Pura Puseh.
10.00am
Passing through Kerambitan, get stop for school with their lifestyle on the village of Meliling and proceed for coffee breaks
11.00- 11.30am
Arrive at village of Gadungan, delicious Indonesian traditional snacks a companied with coffee and tea will be served at the Balinese traditional house compound, where you will feel the real Bali on your village natural tour
12.00-12.30pm
After coffee breaks, tour continues to the south side of Mt. Batukaru trough, Pucuk, Dalang, Munduk Malang, Gempinis, Gunung Salak, guests can enjoy beautiful panoramas, rice paddies, Cocoa garden and the untouched village lives.
13.30pm
Arrive in Beraban
Just 30 meters from the Braban Beach, the beach with clean black sand, an Indonesian Buffet Lunch is served for guests in our traditional and authentic Balinese gazebo, surrounded by rice field.
14.30pm
After lunch, continue to the last destination trough Dukuh Pulu famous for Joged Dance with a traditional lifestyles
15.30pm
Reach Kerambitan Village, stop at the traditional market for 5-10 minutes, then continue through Sudimara, Bengkel and Belalang villages, onto Canggu area.
17.00pm
Passing through Kerobokan area, and straight to Hotel
18.00pm
Arrive at hotel lobby and the tour End
Full Day Jeep Safaris + Spa Treatment Time Schedule;
07.30am
Full Day Tour pick up time
Note: to open canvas ceiling, guests are able to stand-up whiles through.
08.30am
Passing Belalang village, with its traditional lifestyle.
08.40am
Arrive at Pejaten village:
To see the villagers traditional roof tiles, this stop is for around 10-15 minutes.
08.50am
After passing the tiles' village, next stop is Pura Bedha. 5-10 minutes stop for pictures taking. Pura Beda is considered as one of the big temples, it's well carved and a decorated "village temple", the inner courtyard perch 2 merus (Balinese Pagodas), which has 11 tiers each. This temple is dedicated to Brahma and Wishnu as it is a combination of Pura Desa and Pura Puseh.
09.15am
Passing through Kerambitan, get stop for school with their lifestyle on the village of Meliling and proceed for coffee breaks
10.00- 10.30am
Arrive at village of Gadungan, delicious Indonesian traditional snacks a companied with coffee and tea will be served at the Balinese traditional house compound, where you will feel the real Bali on your village natural tour
10.30-11.30pm
After coffee breaks, tour continues to the south side of Mt. Batukaru trough, Pucuk, Dalang, Munduk Malang, Gempinis, Gunung Salak, guests can enjoy beautiful panoramas, rice paddies, Cocoa garden and the untouched village lives.
12.30pm
Arrive in Beraban
Just 30 meters from the Braban Beach, the beach with clean black sand, an Indonesian Buffet Lunch is served for guests in our traditional and authentic Balinese gazebo, surrounded by rice field.
14.00pm
After lunch, continue to the last destination trough Dukuh Pulu famous for Joged Dance with a traditional lifestyles
14.30pm
Reach Kerambitan Village, stop at the traditional market for 5-10 minutes, then continue through Sudimara, Bengkel and Belalang villages, onto Canggu area.
16.00pm
Passing through Kerobokan area, prior arrive at hotel reach the last stop for relaxing and rejuvenate traditional body treatment for 1 hour. After body treatment we straight back to the Hotel by Spa transportation
19.00pm
Arrive at hotel lobby and the tour End
Full Day Jeep Safaris + Horseback Time Schedule;
07. 30am
Full Day Jeep Safaris + Horseback Tour pick up time
Note: to open canvas ceiling, guests are able to stand-up whiles driving through.
08. 30am
Passing Belalang village, with its traditional lifestyle.
08. 40am
Arrive at Pejaten village:
To see the villagers making traditional roof tiles, this stop is for around 10-15 minutes.
08.50am
After passing the tiles' village, next stop is Pura Bedha. 5-10 minutes stop for pictures taking. Pura Beda is considered as one of the big temples, it's well carved and a decorated "village temple", the inner courtyard perch 2 merus (Balinese Pagodas), which has 11 tiers each. This temple is dedicated to Brahma and Wishnu as it is a combination of Pura Desa and Pura Puseh.
09.15am
We will bring you to trail-ride horse back on a secluded black sandy beach and through small seaside villages, for a glimpse into Balinese daily life in area of Yeh Gangga.
11.00- 11.30am
Arrive at village of Gadungan, delicious Indonesian traditional snacks a companied with coffee and tea will be served at the Balinese traditional house compound, where you will feel the real Bali on your village natural tour
12.00-12.30pm
After coffee breaks, tour continues to the south side of Mt. Batukaru trough, Pucuk, Dalang, Munduk Malang, Gempinis, Gunung Salak, guests can enjoy beautiful panoramas, rice paddies, Cocoa garden and the untouched village lives.
13.30pm
Arrive in Beraban
just 30 meters from the Braban Beach, the beach with clean black sand, an Indonesian Buffet Lunch is served for guests in our traditional and authentic Balinese gazebo, surrounded by rice field.
14.30pm
After lunch, continue to the last destination trough Dukuh Pulu famous for Joged Dance with a traditional lifestyles
15.30pm
Reach Kerambitan Village, stop at the traditional market for 5-10 minutes, then continue through Sudimara, Bengkel and Belalang villages, onto Canggu area.
17.00pm>
Passing through Kerobokan area, and straight to the Hotel
18.00pm
Arrive at hotel lobby and the tour End