Getting around
Jakarta taxis are more colorful than the bright yellow cabs of Manhattan; they come in such a great variety and can become a source of confusion. You can also get a rental car, equipped with a driver, to get you around Jakarta.

Or for the adventurous among you, there is always public transportation like:
Buses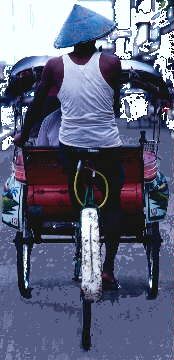 Buses are the primary means of public transportation in Jakarta. Big TATA or Mercedes Benzes span the metropolitan Jakarta, taking you from one main hub to another way across town, while spewing toxic through their tail pipes. On some, the PATAS, you would actually be able to enjoy the comfort of air-condition and a high probability of getting a seat. On the regular DAMRI, consider yourself lucky if you can get a seat. When you do, remember to get up and inch towards the exit amidst the sea of people at least 5 minutes before your stop. Fare does not depend on distance.
Metro Mini
If you think that this is a smaller version of whatever nice image you have concocted in your head when you hear the word "Metro", think again. These bright orange beasts roam the streets of Jakarta. Warning: if you are 5'11'' or taller, there is exactly one seat in the bus where you can sit - back row, middle seat, facing the isle - and there is no chance for you to be able to stand up straight.

Despite all of these, they are quite effective in getting you from point A to point B, and, whether you like it or not, in getting you to know the warmth of Jakarta and its people along the way as you rub shoulders, backs, and step on other people's toes or getting stepped on.
Mikrolet
An even smaller version of public transport. Not as romantic as the bemo of Bali, it is typically a modified van that can carry up to 10-12 passengers. Mikrolet can take you to the remotest corners of Jakarta.
Ojek
The last one in the chain is probably Ojek. Ojeks usually park in front of small alleys (gang) that can have thousands of residencies inside. There is no chance for a taxi or a car to get into these alleys, and the distance maybe to far to walk it. So, Ojek - a motorcycle complete with its driver for hire - comes to the rescue..
Becak
Becaks (or trikshaw) used to be ubiquitous in Jakarta. They are basically bicycle with an attached 2-passanger carriage attached in front of it (or on its side if you are in Medan). Several years back, becaks are banned from the city, and they now have become home to various kinds of fish up north by the Pulau Seribu (Thousand Islands). Oh, the romance of sitting together in a becak with your loved one, maybe with a slight drizzle, is no doubt part of the memory of lots of the thirty-something people of Jakarta. What is left now is a variant of becak called Bajaj, a Vespa (think of it as a fat-bottomed motorcycle, if you don't know what a Vespa is) derivative with an attached carriage. Their obnoxious bright orange color, and distinctive, ear piercing rattle, will accompany you along your ride in the constantly vibrating vehicle.

So, how would a well-seasoned traveler or a native use the public transport system in Jakarta? Quite romantic, really. Say you start from around Istana Negara, the Presidential Palace, and you want to go way down south to Cinere and beyond. You can take a comfortable, air-conditioned PATAS bus to blok M, hop into a Metro Mini (number 69 if I'm not mistaken) to take you to Pondok Labu, continue with a Mikrolet to Cinere, and for the last hop of your trip, say you are visiting a friend somewhere in the various housing complexes around the area, an Ojek (I wonder if the name is really a derivative of "Oh, Jack" - the kind of reaction that should not be uncommon when you ride these motorcycles on barely-paved roads) will complete your trip. Total time? Two hours would not be too stretching if you count the transfer time. But hey, we are talking romance, not efficiency, right?






[.Home.] [.Hotels.] [.Food.] [.Money.] [.Events.] [.Resources.] [.Jakarta.] [.Industry.]

Copyright © 1995-1997 Bali Online